Sailing in St Martin, St Barths, Guadeloupe and Martinique
The first question I get asked when mentioning chartering a yacht in the French West Indies (FWI) tends to be "...where is the French West Indies?". Most people don't know they even exist.
Well, they do. The very fact that they are barely known to the English-speaking world makes them an adventure. And what's more, they are close to the east coast of the United States.
And, depending on when in the year you travel, the French West Indies can be cheap to reach. From San Juan in Puerto Rico you can arrive in Fort-de-France, Martinique, in two hours for about $150 each.
So if you or someone close to you is studying French, chartering in the French West Indies is vacation with an opportunity to road-test your Duolingo French.
Here are some tips:
1. Pick One Island At A Time
You have three main island groups to choose from: St Martin & St Barts, then Guadeloupe, then Martinique. We have combined St Martin & St Barths because they are close and you can only charter from St Martin. So choose an island group, in any order, and make your first trip. There is a strong chance you will be coming back so don't spend too long agonising over which group to start with. Just pick one and go for it.
2. Buy Your Food & Wine In The French West Indies
You don't need to bring anything with you. The supermarkets here are very well stocked with food either grown on the island or flown from France. And value-wise, while the US dollar stays strong against the Euro things are priced well. As for the wine, well you're effectively in France. Buy a bottle of Chateauneuf-du-Pape and enjoy your vacation.
Thanks, Cook&Sail for the image.
3. Enjoy The Nightlife
The French know how to party. It's not the shot-obsessed culture that we English speakers have become accustomed to. It's classy without being snobby (outside of Carnival anyway - *everything* is different then). It's great beats, a few drinks, a dance with someone you fancy. It's good times. The French beats are siiiick. Honest.
4. Learn French
It's worth it. Firstly, (maybe aside from Italian) French is the coolest sounding language. Secondly, with Duolingo you can smash through a basic course for free on your iPhone. Is it as good as enrolling in French classes? Nope. Is it by far the most convenient, cost-effective way to learn French? Yep.
5. Customs Clearance Is Easy
The islands of the French West Indies are actually Departments of France. So you are entering France, with its rules, currency (Euro), police, etc etc. Of all countries in the region, the French have the most sensible approach to customs clearance.
You can go to the Customs office (called "la Douane"), or you can head into any number of restaurants or chandleries that have a Customs terminal. Fill in your details, get the proprietor to stamp and sign, and you're cleared in (or out). It's a ten-minute procedure.
Your boat can be boarded at any time by Customs/Immigration, and you better have the right paperwork in place or face the consequences, but this is how it should be done everywhere.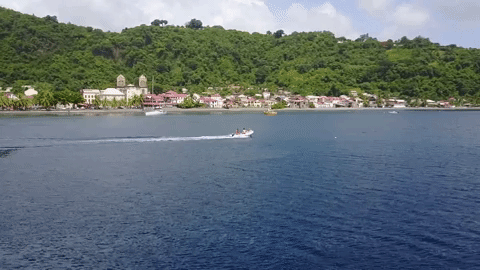 Image: St Pierre, Martinique
6. Sail to Dominica
If you're in Martinique or Guadeloupe and feel like an adventure, you can always head to Dominica. It's a lovely four-hour sail from Îles des Saints (bottom of Guadeloupe) to Portsmouth (Dominica) or about a six-hour sail from St Pierre (Martinique) to Roseau (Dominica). You'll have to check out of your island, then check into Dominica, but Customs/Immigration there is generally pretty efficient (and uses the SailClear system so google that when you have decent internet and things will be much easier). If you get a chance, do the Boiling Lake walk. It's awesome.
Image: Roseau, Dominica
7. Explore the Terrain
Love them or hate them, the French know how to live. Joie de Vivre and Esprit de Corps are both sayings coined (and owned) by the French. They balance adventure with good food and wine better than any other culture (aside from maybe the New Zealanders, but your correspondent is slightly biased there). So when it comes to mountain trails and other land based adventures, with a few notable exceptions they have them well organised. Make use of it. Go to the tourist office and ask what's on offer.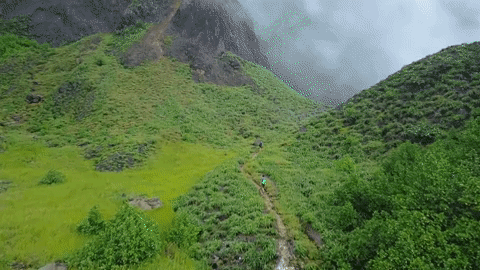 8. Know How To Buy Cheap Flights
Flights to the French West Indies can be cheap if you know how to route them. The key - generally speaking - is to fly through either San Juan or Paris. If you're in the US, get a flight to San Juan (SJU) then on to either Fort-de-France (FDF, Martinique) or Point-de-Pitre (PTP, Guadeloupe), or St Martin (two airports reasonably close to each other, SXM on the Dutch side and SFG on the French side). If you're coming from Europe check out flights to the islands from Paris CDG or Orly. You can find fares in the low hundreds of dollars from San Juan, and mid-hundreds from Paris. Google Flights and Skyscanner are both decent resources; Google keeps on getting better.
9. Ask Charter Companies For A Discount
It's always worth doing this. Depending on the time of year you charter, you can get a great discount. All the major charter companies are represented, such as Sunsail and Dream Yachts Charter. Sailing Virgins is actually a broker so feel free to ask us if we can find a good deal for you.
Conclusion
The French West Indies are an exotic gem hidden amidst well-touristed English-speaking countries. If you have already chartered in the British Virgin Islands and are looking for something different and more adventurous, you will love the islands of the French West Indies. So get a ten-minute French lesson into your morning routine, download the Vivino wine app, collect prices from charter companies and plan your next adventure!
Sailing Virgins runs courses around the French West Indies (FWI) between July and October each year. Our most popular seven-day fast-track Bareboat Skipper courses begin on Sunday and run through to the following Saturday. Our FWI program usually runs out of Martinique - our favourite island. Drop us an email or check out our courses here.