A CARIBBEAN SAILING COURSE MIXED WITH ADVENTURE
Tuesday, July 18, Fort de France: We freshly arrive in Martinique (Google maps has us here) after our July down-island adventure sailing course. We had a great time and couldn't wait to throw up this post and video covering a summary of the week, talk a little about the students and show you what to do to reserve your spot on the up-island course in October.
What is an Adventure Sailing Course?
Watch the video and scroll down to find out.
Below, we first answer a few general questions about Adventure Sailing Courses, then we'll give you a summary of the trip just finished.
As you may know, Sailing Virgins isn't your typical sailing school. Our clients, mostly in their 20s and 30s, come from all over the world because like us, they realize the best way to experience sailing is with dynamic, intrepid individuals seeking to squeeze the most out of life. Sailing Virgin's Adventure Sailing Courses were crafted to offer the best in both offshore sailing instruction and once-in-a-lifetime adventures.
The "adventure" part consists of two elements:
Offshore sailing: a significant amount of sailing done is in oceanic conditions with some sails up to 24 hours in duration. Conditions range from completely calm to hellishly intense. Our boat and your instructor is equipped for this.


Onshore adventure

: the areas we sail past allow some incredible land-based adventures to regions of the world less-traveled by the typical tourist crowd, such as hiking up 1,300 meters to the second largest volcanic hot spring in the world known as Boiling Lake on the island of Dominica, swimming with turtles in Guadeloupe, or simply experiencing the charming French culture of Martinique.
Where does the Adventure Sailing Course go?
We spend two to three weeks sailing between islands in the eastern Caribbean. This is a chain with the British Virgin Islands in the north and Martinique in the south. In between are islands of St Martin, St Barths, Antigua, Guadeloupe and Dominica.
In July we travel from the BVI to Martinique. In October we travel from Martinique to the BVI.
What are the islands like? How do they differ from the Virgin Islands?
The islands themselves are surprisingly diverse. The US Virgin Islands, with its cruise-ship tourists and US dollar, is not. Most of the islands we sail around are in the French West Indies.
This offers a less-travelled, more challenging and ultimately a more rewarding experience. The Frenchness of this part of the Caribbean makes you feel like you are much further away than a four-hour flight from Miami.
There's also the sailing qualification side. In addition to the adventure angle this is a great way to level up your sailing. We make passages from island to island, which provides a more intense learning environment than one simulated in just in a single location.
It also provides some high-quality logged miles which students can collect for leveling up in future and for work.
Trip Review - July 2017 Down-Island Adventure Sailing Course
We set out from West End, Tortola just after lunch on Sunday, July 2, bound for St Martin. On board were four students: Melissa, from Missouri, undertaking her advanced coastal sailing qualifications, Davi, a former investment banker from Brazil on sabbatical and out for an adventure, and the adventurous doctor/dentist duo, brothers Ben and Jeff from Indiana, also looking for some sailing adventure.
A short stop at the legendary Willy-T bar, a spot of dinner and our sailing adventure began with a 24-hour beat to St Martin.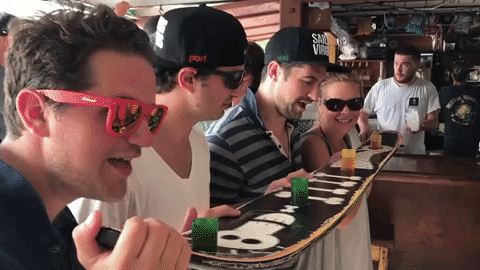 What an intro! The next evening, nearing the island, we made our way to Grand Case, on the French side of St Martin, renowned for its food. There we dined at Bistrot Caraibes, known by many to be the best restaurant in the Caribbean. It was a great contrast from the at times hectic conditions of the previous day.
The next morning was spent in St Martin, provisioning and checking out the famous beach bordering the airport.
Then it was off for a five-hour dusk sail to St Barths. In fantastic oceanic reaching conditions, day became night and we arrived in the billionaire's port of Gustavia at around 9pm, managing to put our boat Libertas alongside on the quay.
The following morning was spent enjoying croissants and pain au chocolates from our favourite bakery in this part of the world, the century-old Boulangerie Choisy.
Wanting to mix our day/night sailing on the Antigua leg, we set off at around 11 am. From St Barths the sailing bends around more to the south, meaning more reaching, meaning our favourite point of sail for passages.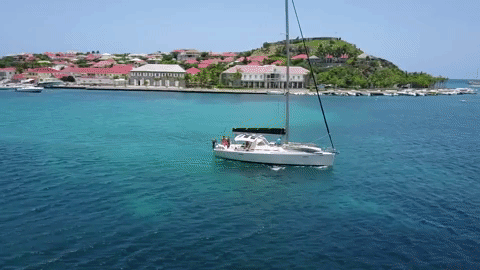 On this leg we played with reefing under sail and reefing on a heave-to, getting the maneuvers down pat. Plenty of knots. Every single Sailing Virgins alumni is able to nail their knots!
As day turned into night, the passage plan turned to the lights. On most stretches of this adventure, we sail without electronic aids. Rather we hone our paper-based navigation techniques. If there is ever an issue, we can always revert to the skills we pick up here.
We arrived in Antigua, alongside the beautiful, quiet, historic bay of English Harbour, just after midnight, and fell sound asleep.
The next morning, after a sleep-in, we found breakfast in one of Lord Nelson's old hangouts, did our customs/immigrations check-in and out, and left for Guadeloupe.
What a beauuutiful sail this was. Eight hours of beam reaching with fine weather. We did some rope tows, refined our reefing under sail to get the entire maneuver down to 60 seconds, and sat back to enjoy the bulk of Guadeloupe coming into view. Just on dinnertime, we made our way into the lovely little bay of Deshaies, on the northern tip of Guadeloupe.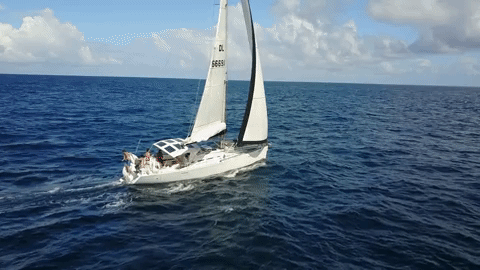 The following morning we checked into French customs and made a passage plan down the western side of the island. We stopped at Pigeon Island for a brilliant snorkel and swim with the turtles, then made our way to Riviere Sens, on the southern end of the butterfly-shaped island.
This was a changeover day so Melissa plus the brothers, Jeff and Ben left us as planned, and Chris, from the June BVI course, arrived.
Given it was halfway point, we decided to rent a house for the night, sleep on land, find some Guadeloupean goings-on and basically relax. We sailed up to our house and found a Cuban party that kept us going until much later.
The next day, with a sleep-in, we set sail to the charming little Îles des Saints. Our sail managed to sustain a rip during a reefing drill, so we sailed for a couple of hours on two reefs, under the beautiful southern tip of the island, where green meets blue, punctuated by the white of the Napoleonic-era lighthouse. This has been featured in our video of the journey.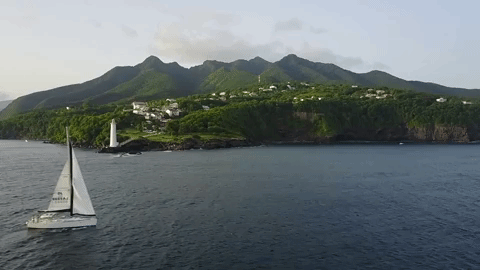 The next morning we found the local sailmaker who, fortunately, had some time on his hands. We took the sail off and walked it through the little streets of the village to his workshop. An hour later we marched our sail back to the boat, good as new, and re-set the reef lines ready to go. Given that this is an Adventure course, Chris was sent up the bosun's chair to lube the track while we caught it all with the drone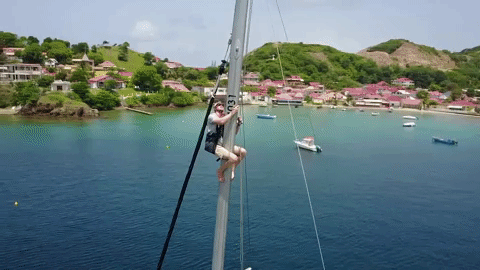 The passage to Dominica took about five hours of the beautiful beam and close reaching. We arrived in Prince Rupert Bay, on the northern end of the island, just as the sun was setting.
The following day we were picked up by local guide Alexis and taken up the Indian River. This was made famous as the location of the witch doctor in the second Pirates of the Caribbean series.
It was well chosen; this place felt like a cross between Pirates of the Caribbean and Jurassic Park. With a no-engine policy, we were able to enjoy the whole experience, right to the jungle bar further up the river.
With Indian River behind us, we ventured further down south, to the main town of Roseau, where we put Libertas off the center of town, preparing for the next day's adventure up to Boiling Lake.
Walking around town we found an excellent little restaurant where we were able to have a brilliant slab of fresh tuna with a light salsa on top for $7.50 each. Yum.
The next day started with a solid breakfast of scrambled eggs, and lots of water. We were about to do a six-hour hike up to the Boiling Lake. A taxi driver took us to the base of the walk and the three of us began.
The hike is fascinating, starting with the tropical rainforest, shaving down its lushness as we increased our height. Walking through warm streams of volcanically-heated water, we made the top then turned around and, on the way back, managed to find a perfectly warm natural jacuzzi tucked into the river.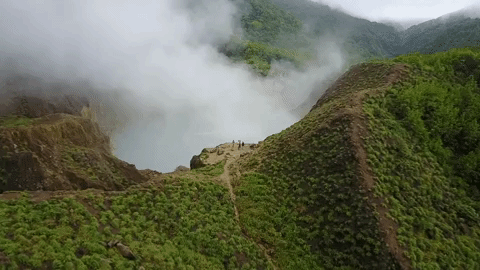 We headed back to Roseau, ate a few hamburgers, then decided to set off after dinner, so we could make Martinique and still have a few hours of sleep enjoying the stillness of being on anchor.
St Pierre, at the top of Martinique, was completely demolished by a volcano in 1903, which remained the largest such eruption for the entire century. A museum and several wrecks in the bay shows some of the carnage brought by this event.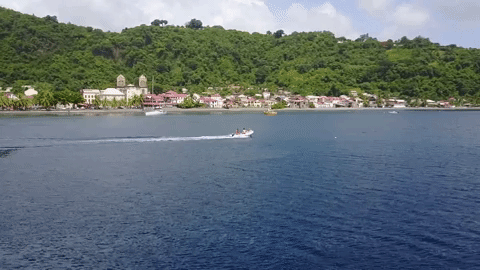 We then took the boat down to the Anses d'Arlet, popular amongst sailors as quiet, clean bays on the south of the island. What started as a light wind ended up being a fantastic 25 knot beam reach, allowing us to sail right up to our anchorage in the Grande Anse.
There we found a fantastic little beach shack offering that wonderfully distinct style you find all around these parts - pure French Caribbean fusion.
The following day was our first proper beat since St Martin, as we rounded the southern end of the island and sailed towards the sailing centre of Le Marin.
Done! An epic adventure. Thanks, Melissa, Davi, Jeff, Ben and Chris for being a part of it.
Our October Up-island Sailing Adventure has a few remaining spots available. If you're interested in this, we suggest you get in there early as spots are very limited. Preference is given to past students, but if you feel that a Sailing Virgin's Adventure course is for you, check out the page and let's get in touch!